Boat Owners
You, your boat and Oil Care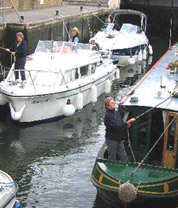 As a boat owner or someone who hires or maintains boats, you need to look after the oil/fuel on board. Following our advice will help you reduce the risk of causing pollution.
Oil Care on your boat
Make sure you have an oil spill kit on board in case you have a spill, most chandlers or boat yards will sell or hire these. A good spill kit will contain some oil sorbent products, sheets and socks, a bag to put these in when they've been used, some leak sealing putty and an instruction sheet.
Store full and empty oil containers securely where they can't be knocked over, damaged or stolen. Remember that portable petrol containers have specific safety requirements (See the Boat Safety Scheme).
Use a drip tray under your engine and gearbox, with oil sorbent sheets in, to help contain minor drips or leaks.
If your engine or fuel system springs a leak, stop for repairs as soon as possible.
Check your bilge
Use an oil sorbent bilge product to soak up any oil or fuel in the bilge.
Check your bilge before you pump it out. If there's any oil floating in it make sure your in-line bilge filter is secure or use an oil sorbent product before you pump.
If your vessel has an automatic bilge pump, you should always have an appropriate sorbent present in the bilge. Check this regularly and replace as needed.
Refuelling
Before you refuel check all visible parts of your tank and pipes to make sure they're in good condition. Look for damage or loose fittings including the tank itself. Only refuel once you're happy everything is in order.
When refuelling, take care not to overfill (leave a little room at the top of the tank) and watch for drips from the pump too. Securely replace the filler cap.
If you're filling portable containers fill them away from the water's edge and have your spill kit to hand. Ensure the containers are designed to store the fuel or oil you are using, are in good condition and have a secure fitting lid.
Dispose of oil and oily products safely
If you service your own boat, make sure you collect any used oil in an undamaged container.
Keep the used oil away from the water and dispose of it correctly as soon as possible. Check the oil bank web site at www.oilbankline.org.uk, telephone 03708 506 506 (national call rate) for your nearest disposal site, or contact your local authority recycling officer.
Any sorbent material used to clean up oil/fuel must be disposed off in a proper container, most boat yards and marinas should have a hazardous waste container you can use.
If you have a spill: points to remember
If you are in still or slow moving water and can safely reach the spill try using oil sorbent products from your spill kit to remove it, but make sure you don't leave these to float away creating litter. (Tie a lanyard to a corner of the sorbent to aid retrieval)
If you have an oil or fuel spill and can't deal with it without putting yourself at risk, call the national incident/pollution hotline 0800 80 70 60 as soon as possible, the line is open 24 hours, calls are free from landlines but there may be a charge if you're using a mobile.
If you have an oil spill in a harbour tell the harbour master.
Don't mix detergent with the oil, this makes the pollution worse as detergent itself is a pollutant.
Remember oil and water don't mix – please help us keep them apart